Lavoir de la Manufacture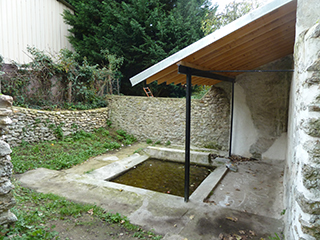 Informations directionnelles
Revenir rue Armand Raulet, la prendre à gauche, après avoir quitter le goudron on entre dans un petit bois. Peu après on découvre à droite un espace dégagé, avant de rentrer de nouveau dans le sous-bois, prendre à droite le chemin qui descend en longeant le bois. En bas, tourner à droite, au premier carrefour, monter à gauche le chemin des Fortes Terres. Puis prendre à droite le chemin des Jeunes Plantes qui se prolonge par un escalier avec une belle vue sur la vallée de la Seine. En bas, prendre à droite et face au numéro 13, descendre la sente Quiète. Au bas, on est face à une passerelle qui mène à la gare de Vaux. Continuer à gauche en longeant la voie ferrée.

Emprunter le boulevard Angibout en direction de la mairie. Au bout du boulevard Angibout, passer sous le pont du chemin de fer. Arrivé à la rue du Général de Gaulle, la prendre à gauche sur environ 250 mètres pour vous rendre au lavoir Saint Nicaise (1).


Prochain point : lat="49.017121" lon="1.965432"

Lavoir de la manufacture (factory washhouse)
At the foot of Hautil mound, with its many quarries
The porcelain factory...
A porcelain factory was located here on Fort Vache or Forvache plateau. Sevres Museum holds a few rare pieces made in Vaux. The factory was founded in 1769 by Gilles-Marie Hocquard de Coubron, Lord of Vaux, and Mr. Laborde, both owners of the Vincennes factory. It used kaolin mined in the Hautil hill quarries. The very rich subsoil of Vaux (limestone, sandstone, gritstone, gypsum...) was mined from the sixteenth century and even in antiquity. In the nineteenth century in the industrial era, gypsum extraction was mechanized. The operation led to building the ports and plaster factories in Forvache and on the banks of the Seine, the preferred transportation route. Monsieur de Coubron Hocquard thus enlarged the plaster port in 1788.
... Whose history is recalled by the washhouse
The path and washhouse still carry the name "manufacture" (factory). The washhouse is supplied by a spring that comes down from Hautil. The spring water comes out in a small stone niche. Restored in 2011, it is covered by a half- pitch roof with zinc tiles, supported by iron posts. An inscription carved in stone on the supporting wall dates its construction to 1873. Other dates of the same type appear to correspond to the various restorations.