Ferme seigneuriale de M.Vantuyne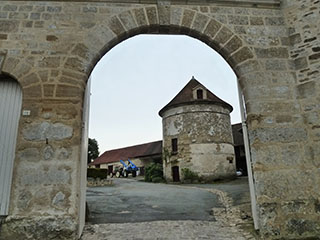 Informations directionnelles
Prendre à gauche, la rue du général de Gaulle, puis à environ 150 mètres, prendre le chemin à gauche. Continuer tout droit jusqu'à la rue Butelle. Tourner à gauche. Plus loin, laisser un chemin sur la gauche et continuer tout droit. Au carrefour suivant, sur le droite, se trouve la maison où vécurent Jeanne Fusier-Gir et Charles Gir.

Prochain point :
Jeanne Fusier-Gir et de Charles Gir
Prochain point : lat="49.13" lon="2.05223"

The Manor Farm
Architecture at the service of agriculture
A great traditional farm…
The large 17th century farm is situated at the entrance to the village, in a dominating position that affirmed the social rank and wealth of its first owners, of noble descent. The numerous buildings, established around a long closed rectangular courtyard, are typical of farms in the Venix area. It can be entered by a pedestrian door, dated 1858, adjoining a high, rounded carriage gate. In the centre of the courtyard a foot bath and a dovecote still exist. At the entrance to the farm, there was also a pond, which was filled in the 60s. The cereal farming activity has been going on for six generations.
…where a dovecote is erected
The dovecote was built in 1771. It is divided into two levels, a lower room used for storage and an upper room containing the plaster (missing today) dovecote or pigeons' nests. The interest of pigeon breeding was two-fold: it provided meat and also fertiliser from the pigeon droppings. Damage caused by the birds were the subject of many complaints in the list of grievances during the French Revolution. As an emblem of power, the dovecotes were often damaged at the time. Nevertheless, in the French Vexin area about thirty still remain, two of which are in Grisy-les-Plâtres.